Julius Caesar
Gap I and II production – December 2020
With every incentive to remain permanently in power, the Caesar administration is looking less like a republic and more like a dictatorship: using systematic efforts to intimidate the media; building an official pro Caesar media network; politicising the civil service, military, National Guard and domestic security agencies; using government surveillance against domestic political opponents; stacking the Supreme Court; enforcing law for only one side; rigging the system; fear mongering and demonising the opposition.
With the economy roaring and the highest voter turnout since 1900, prospects for Caesar's coronation look strong. This is set to be a presidential campaign like no other. But with Caesar's sights set securely on dictator, the election was always expected to be a dramatic and eventful ride.
Desperate to hold onto the Republic, Brutus, one of Caesar's nearest and dearest, is caught in a moral dilemma and it isn't long before he joins the Conspiracy, led by Cassius, to murder Caesar. Will the Republic, that the conspirators seek so desperately to preserve, be lost forever?
Directed by Amanda Crewes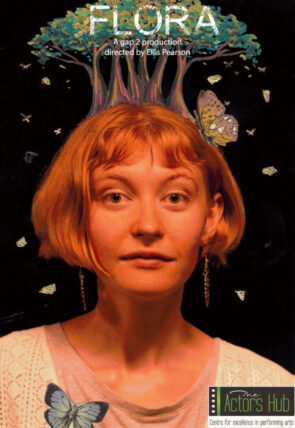 Flora
Gap II production – October 2020
The Gap 2 students present a self-devised piece directed by Ellis Pearson
Enter the curious world of Flora; an apartment of magic and wonder.
Inside her whimsical home, spirits sing and nature thrives. Her world changes when an assortment of colourful characters enter her apartment and make themselves at home.
Paradise can't last forever. When her world begins to burn before her very eyes, Flora is left with a choice. Do I stay, or do I go?
Directed by Ellis Pearson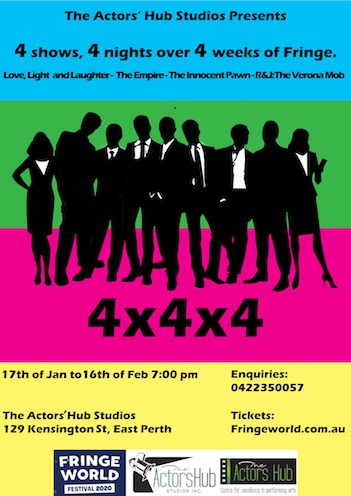 4x4x4 at Fringeworld
January-February 2020
In 4x4x4, the same team perform four separate shows during Fringe World.
The Innocent Pawn gives a 360-degree perspective on people's experiences and relationships to pornography and how it affects our culture, society and relations.
The Empire looks at what happens when augmented reality bleeds into our reality? 
The Verona Mob takes the classical Shakespearean piece, Romeo and Juliet, and transforms it into a modern day whodunit.
In Love Light Laughter we meet eight celebrities as they grapple with the very human lives they lead behind the extraordinary click-bait that our culture consumes.
At Affinity's End
The Actors' Hub Studios production – Perth Fringe January 2020
At Affinity's End' explores connection, the cost of keeping people at a distance, and what true love really means.
Meaghan and Brendan are madly in love, almost insufferably so. Knowing that the honeymoon period can only last so long, they enlist the help of a therapist. Through the highs and the lows, we follow them across eight years of their relationship in the therapist's office. While the two of them are learning about each other, themselves and how to communicate their love, the doctor battles with his growing fondness for them, his professional distance and where that line sits for him in an ever isolated world.
Written and directed by Amanda Crewes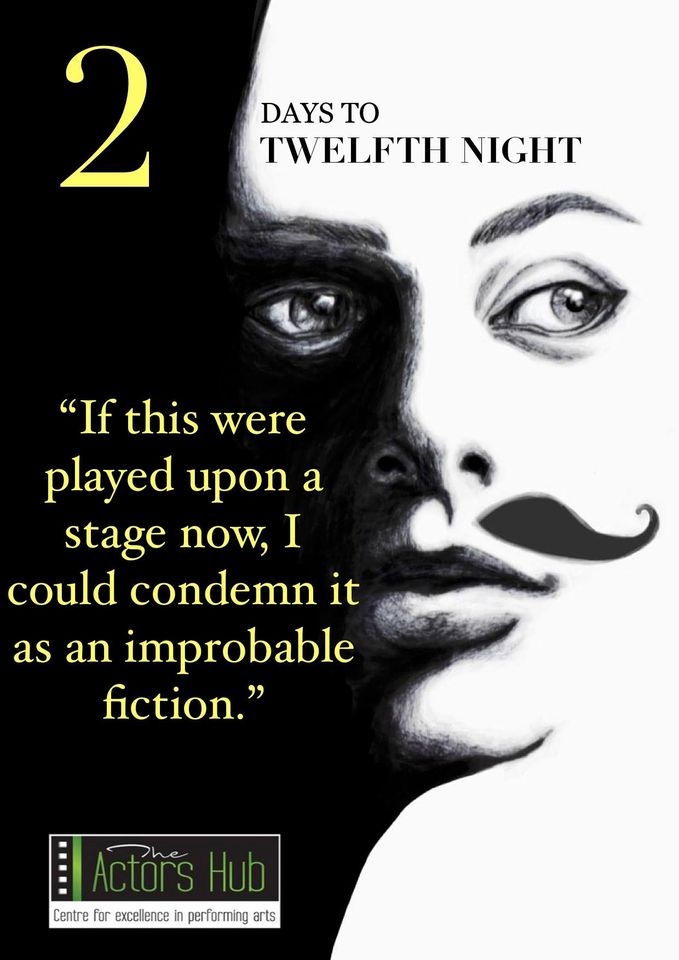 Twelfth Night
Gap II production – November 2019
Also known as What You Will, Shakespeare's comedy, is a tale of mistaken identity and unrequited love – hilarious and heartbreaking.
A young, aristocratic-born woman, Viola, has been shipwrecked in a violent storm off the coast of Illyria. In the process she has lost her twin brother, Sebastian. Finding herself alone in a strange land, she disguises herself as a boy, Cesario, and becomes a page in the service of Orsino, the Duke – with whom she falls in love.
Orsini, however, is in love with Olivia, but she is in mourning for her dead brother, so has rejected all his advances. And when Orsino sends 'Cesario' to woo her on his behalf, it all gets a little complicated – especially when others get involved!
By William Shakespeare
Directed by Amanda Crewes
The Empire
Gap III production – November 2019
Over 14 years, the immersive augmented-reality online game, Hubris, and its founders, The Empire, have garnered the undivided attention of over 80% of Australia.  When Hubris suddenly goes offline for the first time since its beginnings, a desperate group of vigilantes present the players with an impossible decision, and the Empire are forced to play for their lives.
Presented as a work-in-progress, requesting feedback from audiences. The production will be presented at the Perth Fringe Festival 2020, as part of the Actors' Hub 4x4x4 event.
Written and Directed by Amanda Crewes
The Return
Gap I production – November 2019
"The greater the number of bystanders, the less likely it is that one of them will help."
A thug and his junior partner in crime take a late night train from Perth to Fremantle, menacing passengers along the way.
Riding the uneasy line between comedy and terror, The Return is a tautly-written study in peer pressure, anxiety and suppressed violence in a social class which is often silenced.
Written in 2001, the play was adapted in 2006 by Cribb for the screen as Last Train to Freo directed by Jeremy Sims.
By Reg Cribb
Directed by Amanda Crewes