THE COMEDY OF ERRORS
Gap 1 & 2 Production - November 2021
What happens when two sets of identical twins end up in the same town unknown to each other?
Stolen identity? Perhaps.
Miscommunication and beatings out of frustration? Most definitely.
Everyone being confused and blaming the devil? Highly likely.
Or is it all just a trick played by the other.
What kind of mischief and trouble could four people cause in the span of one day. If two and two look alike, you can bet your bottom dollar it'll end in tears for some and laughter for others.
Directed by Amanda Crewes
One Punch Wonder
Actors' Hub Studios Production - November 2021
How much damage does one punch really do?
Moving from a pub-side view of the confronting world of mateship, booze and violence to experiencing loss through the eyes of the grief-stricken, One Punch Wonder pulls up the page, and puts the culture of toxic masculinity under a microscope. Looking into the coward's punch from all angles, it asks us: "How are we raising our boys?"
While touring our Western Australian communities in June, the cast of One Punch Wonder realised how desperate Australia is to openly talk about the cultural pressures of masculinity and the mental health of our men.
Originally performed as part of this year's Perth Fringe Festival, Is There Anybody Out There? is the final chapter of The Blind Eye Trilogy –  which began with One Punch Wonder.
Directed by Amanda Crewes
So Here We Are
Gap II and III production – September 2021
Frankie's dead. And no-one's quite sure why
A showcase that allows a three-dimensional look into how young people directly affect each other, and an insight into their primary assumptions that lead them to make decisions as to what life is and should be and how to deal with it.
But wait. A bonus. Laughter. Laugher can align with courage. We are given that freedom and choice.
In the worst of circumstances, our young people find jokes, some of them are terrible, even awful, but we need to laugh at times to cover grief. Even when a loved one leaves us of their own accord.
Directed by Ross McGregor
Concerto De Mirage
Gap II & III Production - May 2021
A fascinating, funny and touching exploration of humanity through the expressive mask.
Aren't we all deep down inside just loveable twits?
In Concerto De Mirage, seven strangers, all from vastly different walks of life, gather to experience a prestigious music concert. 
But these seven characters embody the most conflicting of human inclinations and impulses and, when all are obligated to follow cultured etiquette and meet social expectations, their deep, dark unfulfilled needs start to emerge and collide, as their antics instead take centre stage. 
Hiding behind modesty is arrogance, hiding behind shame is pride and hiding behind compassion is insensitivity. Watch closely as these lovable characters navigate the confusion of  what it means to be human. 
Roald Dahl writes that "A person who has good thoughts cannot ever be ugly. You can have a wonky nose and a crooked mouth and a double chin and stick-out teeth, but if you have good thoughts it will shine out of your face like sunbeams and you will always look lovely."
Concerto De Mirage transcends spoken language through the magic of the  expressive mask to hold up a mirror to our unspoken antisocial thoughts and desires in order to celebrate the humour in being human.
Written & directed by Ellis Pearson
NAUGHTY NIGHTS @ NINE
January-February 2021
Are you ready for the ultimate Fringe experience?
Presented by the Actors' Hub Studios Inc, Naughty Nights @ Nine​ ​is a brand new extravaganza variety event making its debut over 4 nights every week of FRINGE WORLD 2021. Created for people who are out to experience interactive and fresh nights out, these five shows boast everything from hilarious farce through interactive murder mysteries to deadly improvisation. If you like the thrill of competition, something a bit sizzling and a lot saucy, filled with blunders, mystery and hilarity then this is the event for you.  All performnces start at 9pm
Lloyd of the Rings
This is it… the big day is finally here, the wedding of her dreams, and everything is going to be absolutely PERFECT! Right? Welcome to the wedding from hell that will leave you rolling in the aisles thinking "Thank God it isn't me!"
PLAY-IN-A-DAY
They had 24 hours to write, direct and rehearse a play and you see it in hour 25. Experience a night of skill, pressure and chaos. There's no turning back and no time for doubts in this chaotic challenge that will leave you sitting on the edge of your seats​.
24-Hour Film Competition
Can Perth's up and coming directors and film creatives create a short film in 24 hours and premiere the following week?
Whodunnit?
MYSTERY! MURDER! MOONSHINE! Every Saturday late night delve into a different decade for a dubious and hilarious adventure where ​you ​get to solve whodunit!
Improv to the DEATH!
When teams collide in a tussle of wits for improvisation supremacy, only one team will stand victorious at the end with all the bragging rights they can dream of!
4x4x4 at Fringeworld
January-February 2021
FOUR DIFFERENT SHOWS, FOUR NIGHTS EACH OVER FOUR WEEKS OF FRINGE
The Actors' Hub have pulled out all the stops to put on an action packed month of shows certain to see audiences coming back for more! With dates set across the month you don't have to compromise on choice – just simply don't miss it!
The Compound
In 2050 after the second wave of Covid, the world lies in ruin. A community in the heart of Australia has protected themselves from the danger of the new world. A stranger arrives with secrets that threaten to unravel them all.
Twelfth Night-Survivor Edition
Peek backstage into the filthy thoughts & forbidden feelings of these players. In a battle of the (un)fittest, who will survive the 12th night?
Iconic
What makes an icon? An intimate look into what inspires these impersonators about Audrey Hepburn, Cate Blanchett, Tom Holland, Brittany Spears & Bob Marley.
Is There Anybody Out There?
A modern day Fairytale. We have all at one time in our lives wished for a fairytale. Love makes us believe the impossible, feel the imaginable and do the unthinkable. "Is There Anybody Out There" is a verbatim 360 degree exploration of the dark side of what it means to fall in love in our modern world.
Julius Caesar
Gap I & II production – December 2020
With every incentive to remain permanently in power, the Caesar administration is looking less like a republic and more like a dictatorship: using systematic efforts to intimidate the media; building an official pro Caesar media network; politicising the civil service, military, National Guard and domestic security agencies; using government surveillance against domestic political opponents; stacking the Supreme Court; enforcing law for only one side; rigging the system; fear mongering and demonising the opposition.
With the economy roaring and the highest voter turnout since 1900, prospects for Caesar's coronation look strong. This is set to be a presidential campaign like no other. But with Caesar's sights set securely on dictator, the election was always expected to be a dramatic and eventful ride.
Desperate to hold onto the Republic, Brutus, one of Caesar's nearest and dearest, is caught in a moral dilemma and it isn't long before he joins the Conspiracy, led by Cassius, to murder Caesar. Will the Republic, that the conspirators seek so desperately to preserve, be lost forever?
Directed by Amanda Crewes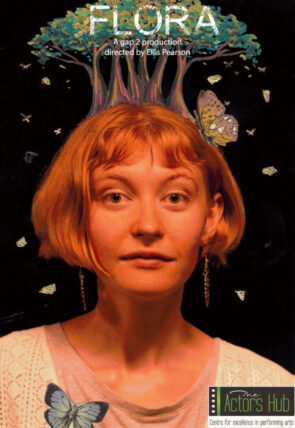 Flora
Gap II production – October 2020
The Gap 2 students present a self-devised piece directed by Ellis Pearson
Enter the curious world of Flora; an apartment of magic and wonder.
Inside her whimsical home, spirits sing and nature thrives. Her world changes when an assortment of colourful characters enter her apartment and make themselves at home.
Paradise can't last forever. When her world begins to burn before her very eyes, Flora is left with a choice. Do I stay, or do I go?
Directed by Ellis Pearson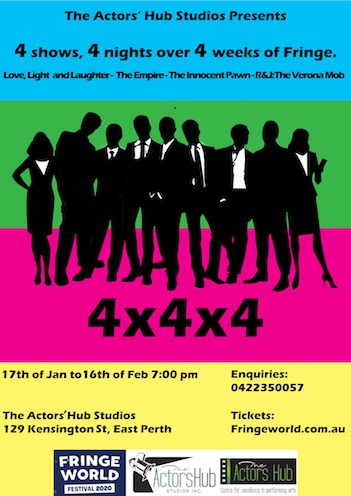 4x4x4 at Fringeworld
January-February 2020
In 4x4x4, the same team perform four separate shows during Fringe World.
The Innocent Pawn gives a 360-degree perspective on people's experiences and relationships to pornography and how it affects our culture, society and relations.
The Empire looks at what happens when augmented reality bleeds into our reality? 
The Verona Mob takes the classical Shakespearean piece, Romeo and Juliet, and transforms it into a modern day whodunit.
In Love Light Laughter we meet eight celebrities as they grapple with the very human lives they lead behind the extraordinary click-bait that our culture consumes.
At Affinity's End
The Actors' Hub Studios production – Perth Fringe January 2020
At Affinity's End' explores connection, the cost of keeping people at a distance, and what true love really means.
Meaghan and Brendan are madly in love, almost insufferably so. Knowing that the honeymoon period can only last so long, they enlist the help of a therapist. Through the highs and the lows, we follow them across eight years of their relationship in the therapist's office. While the two of them are learning about each other, themselves and how to communicate their love, the doctor battles with his growing fondness for them, his professional distance and where that line sits for him in an ever isolated world.
Written and directed by Amanda Crewes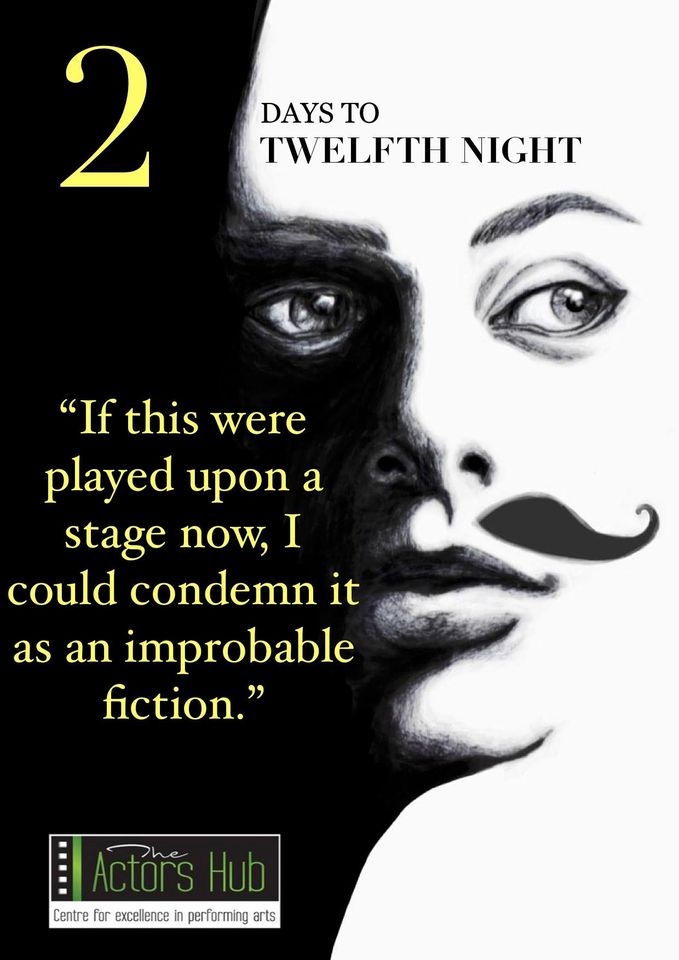 Twelfth Night
Gap II production – November 2019
Also known as What You Will, Shakespeare's comedy, is a tale of mistaken identity and unrequited love – hilarious and heartbreaking.
A young, aristocratic-born woman, Viola, has been shipwrecked in a violent storm off the coast of Illyria. In the process she has lost her twin brother, Sebastian. Finding herself alone in a strange land, she disguises herself as a boy, Cesario, and becomes a page in the service of Orsino, the Duke – with whom she falls in love.
Orsini, however, is in love with Olivia, but she is in mourning for her dead brother, so has rejected all his advances. And when Orsino sends 'Cesario' to woo her on his behalf, it all gets a little complicated – especially when others get involved!
By William Shakespeare
Directed by Amanda Crewes
The Empire
Gap III production – November 2019
Over 14 years, the immersive augmented-reality online game, Hubris, and its founders, The Empire, have garnered the undivided attention of over 80% of Australia.  When Hubris suddenly goes offline for the first time since its beginnings, a desperate group of vigilantes present the players with an impossible decision, and the Empire are forced to play for their lives.
Presented as a work-in-progress, requesting feedback from audiences. The production will be presented at the Perth Fringe Festival 2020, as part of the Actors' Hub 4x4x4 event.
Written and Directed by Amanda Crewes
The Return
Gap I production – November 2019
"The greater the number of bystanders, the less likely it is that one of them will help."
A thug and his junior partner in crime take a late night train from Perth to Fremantle, menacing passengers along the way.
Riding the uneasy line between comedy and terror, The Return is a tautly-written study in peer pressure, anxiety and suppressed violence in a social class which is often silenced.
Written in 2001, the play was adapted in 2006 by Cribb for the screen as Last Train to Freo directed by Jeremy Sims.
By Reg Cribb
Directed by Amanda Crewes